This beer fest celebrates a single beer: the Hunahpu. Named after Mayan mythology, Hunahpu includes cacao nibs, cinnamon, Madagascar vanilla beans, and chilies. It's Cigar City's most famous stout and often tops any RateBeer, Untappd, and BeerAdvocate chart. Attending Hunahpu's Day is a must for any stout lover.
Unlike most other festivals, attendees of Hunahpu's Day don't go home empty handed. Tickets get you 4, 8, or 12 750ml bottles of Hunahpu or its sister beers (Xbalanque, or XQuic). Tickets are on the steep side, ranging from $200 to $400, but they're worth it if you love this beer. For the uninitiated, Cigar City only releases Hunahpu during this event.
Hunahpu isn't the only beer on tap during the event. More than 170 breweries will pour more than 300 plus beers. We recommending trying the following top rated beers. For our full guide to Hunahpu's Day, check out the guide here.
1. 3 Floyds – Marshmallow Handjee (Rating: 4.8 | Reviews: 1.7k)

This beer is bested by only one other on BeerAdvocate's Top 250 rated beers, and it's our personal #1 beer of 2019. Marshmallow Handjee from 3 Floyds is a beer that stops you in your tracks. Handjee is a barrel-aged vanilla stout with a strong vanilla aroma and smooth mouthfeel. The beer's only downside is its name, which prevents you from hyping the beer up to your coworkers and family.
This beer also earned top ranks at the 2019 Firestone Walker Invitational.
2. Angry Chair – Barrel Aged Adjunct Trail (Rating: 4.8 | Reviews: 1.7k)
A special release during Tampa Bay Beer Week, this Bourbon Barrel Aged Imperial Sweet Stout includes Coconut, Hazelnut, and Coffee.
This beer was also featured in our guide for Other Half's Pastrytown.
3. Angry Chair – Barrel Aged Imperial German Chocolate Cupcake Stout (Rating: 4.7 | Reviews: 4.8k)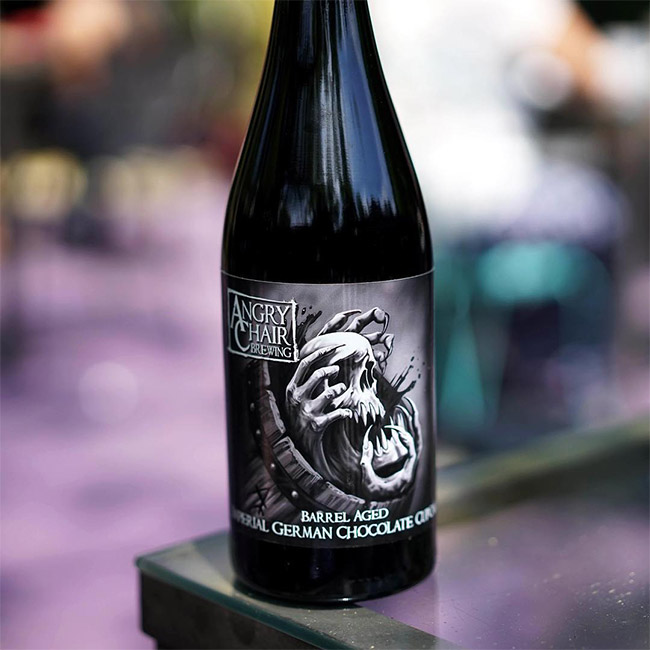 This pastry stout was aged in bourbon barrels with cacao, vanilla beans, and coconut. If you follow beer news, you'll know that this is THAT beer from Angry Chair. The beer that sparked massive lines in Tampa, shutting down entire city blocks. Are the lines worth it? You be the judge. One thing is certain, Angry Chair is the king of pastry stouts.
4. 3 Sons Brewing – Lumberjack (Rating: 4.7 | Reviews: 1.9k)
Lumberjack Morning Break is a bourbon barrel-aged imperial stout infused with maple syrup and coffee from Switchbox Coffee Roasters. 3 Sons hosts an annual lumberjack festival every year to celebrate this tasty dessert stout, and it's worth celebrating.
Like Angry Chair, this 3 Songs was also featured at Other Half's Pastrytown.
5. Other Half – All 5th Anniversary Everything (Banana) (Rating: 4.7 | Reviews: 2.6k)
A light refresher brewed with wild Thai banana, cacao nibs, macadamia nuts, coconut, toasted coconut, and vanilla. Like banana chocolate bread with coconut sprinkles. General Manager at Other Half, Beriz Ramirez, labeled this his most memorable beer of 2019.
This is the third beer on this list that appeared in our guide to Other Half's Pastrytown.
6. The Answer Brewpub – Jinxy Cat Imperial Milk Stout (Rating: 4.7 | Reviews: 1.3k)
My first jaw-dropping craft beer was a milk stout, so The Answers' Jinxy Cat has a special place in my heart, even if it includes nuts. This decadent Imperial Milk Stout includes tons of toasted coconut and Swiss Chocolate Almond Coffee. If you like Almond Joy, you'll love this beer.
7. Bottle Logic – Fundamental Observation (Rating: 4.6 | Reviews: 7.3k)
We had the pleasure of visiting Bottle Logic in Anaheim when they released Fundamental Observation. This limited release beer was aged in four different types of bourbon barrels, and blended with Madagascar vanilla beans. Gear Patrol listed this beer on their 25 beers to try before you die. And for good reason. This beer is to die for.
8. Horus Aged Ales – Proper Dose (Rating: 4.6 | Reviews: 3.5k)
This big 13.9% beer was made in collaboration with the brewer's favorite punk band, The Story So Far. The beer includes Geisha Coffee (a prized varietal for you coffee lovers), Bourbon Madagascar Vanilla Beans, Cacao Nibs, and hazelnuts. This beer includes a very creamy mouthfeel, without lactose.
This beer topped our guide to the 2019 Extreme Beer Fest.
9. J. Wakefield Brewing – I Believe in a Thing Called Stout. (Rating: 4.6 | Reviews: 1.1k)
With a label like that, the beer better be good. Brewed in collaboration with Other Half Brewing. This Imperial Stout was infused with in-house roasted Marcona Almonds, Cacao Nibs, and toasted Coconut.
10. More Brewing – BA Henna: Double Rainbow (Rating: 4.6 | Reviews: 2.0k)
Another beautifully crafted beer from More Brewing. This version of More's famous Henna was brewed with Strawberry, Vanilla, and Chocolate, making it the neapolitan ice cream of the beer world. This is a perfect end to this decadent top 10 list.